To better understand EMS agency vaccination mandates and provider practices, and how these might impact COVID-19 vaccination amongst frontline personnel, we surveyed EMS providers, supervisors and chiefs. More than 500 responses have provided insights into EMS vaccination policies, practices and perceptions.
Covid-19 impact on EMS
Since mid-January, COVID-19 has upended the EMS industry in the United States. An untold number of EMTs and paramedics have been exposed to the virus, hundreds or possibly thousands have missed work because of COVID-19 related-illness, and at least 37 EMTs, paramedics or EMS chiefs have died of COVID-19 infection.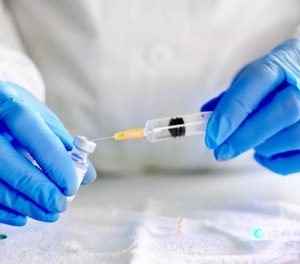 In addition, call volume has dropped by 20% or more in many jurisdictions because patients are reluctant to seek out medical care because of COVID-related fears. The reduction in call volume exacerbates the economic impact of the pandemic because operations costs have skyrocketed from increased PPE use and additional staffing.
EMS, along with the rest of population, will only return to normal when a vaccine is widely available for all responders, as well as their families and the civilians they serve.
COVID-19 vaccine development
Just 6 months after the World Health Organization declared COVID-19 a pandemic on Mar. 11, 2020, four COVID-19 vaccine candidates are in Phase 3 clinical testing in the U.S. "This is an unprecedented feat for the scientific community made possible by decades of progress in vaccine technology and a coordinated, strategic approach across government, industry and academia," NIAID Director Anthony S. Fauci, MD, noted.
The latest candidate to reach Phase 3, the Janssen candidate, has showed promise in early-stage testing, according to Fauci, who pointed out, "It is likely that multiple COVID-19 vaccine regimens will be required to meet the global need."
The U.S. federal government has told states to prepare for a COVID-19 vaccine to be ready to distribute by November 1. CDC Director Robert Redfield said in the near future, states will receive permit applications from McKesson Corp., which has contracted with CDC to distribute vaccines to places including state and local health departments and hospitals.
Vaccine survey methodology
EMS1 developed a 13-question survey, open from Aug. 20, 2020, to Sept. 11, 2020. A total of 528 responses were collected using a Microsoft Form. Respondents included:
Medical first responders (3%)
EMTs (25%)
AEMTs (7%)
Paramedics (46%)
Supervisors (10%)
Chiefs (8%)
Medical directors (0.2%)
Influenza vaccination mandates, practices
Nearly 2/3 of all respondents indicated they received their flu shot in 2019, while slightly more than 1/3 were not vaccinated against influenza. The COVID-19 pandemic has not greatly impacted respondents' plans to get vaccinated for influenza in 2020. Just 7% of respondents were undecided, with 59% planning to be vaccinated for influenza this year (vs. 62% in 2019), and 34% not planning to get their flu shot (vs. 37% in 2019).

Chiefs and supervisors reported higher rates of vaccination in 2020 and plans to be vaccinated in 2020 than AEMTs, EMTs, paramedics and medical first responders.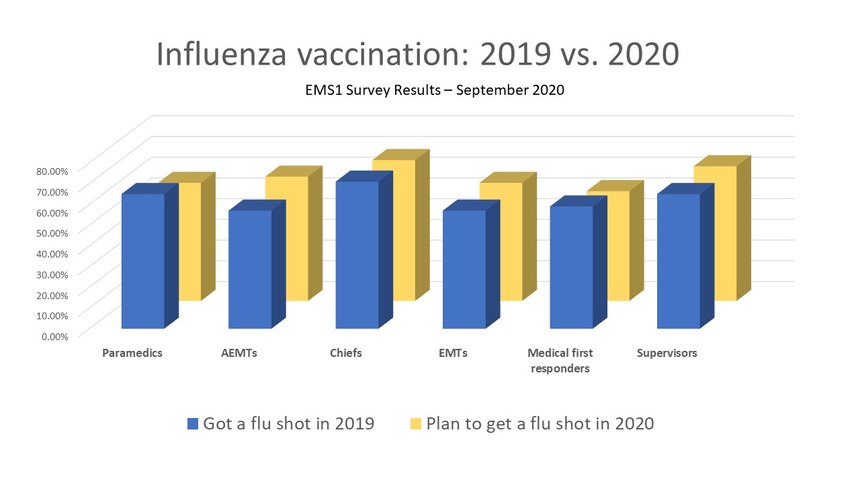 While 59% of respondents noted their agency either mandates (24%) or strongly encourages (35%) influenza vaccination for frontline personnel, 83% noted there are either religious or health exemptions (or both) to their mandate, signifying most vaccinated EMS personnel are opting in to their vaccines.

COVID-19 vaccination demand
While a COVID-19 vaccine could pass Phase 3 clinical trials in a matter of weeks, ramping up production and distribution channels, and determining where to begin will be a huge task for the public health systems in the U.S. and across the globe.
According to the survey results, when a COVID-19 vaccine does become available in the U.S., just 28% of respondents report they will be vaccinated. Another 12% will only be vaccinated if mandated by their employer. The largest group of respondents – 41% – said they will not be vaccinated for COVID-19, and another 19% are unsure.
Comparatively, in a Pew Research Center study also conducted in September, about half of U.S. adults (51%) said they would definitely or probably get a vaccine to prevent COVID-19 if it were available today, while 49% said they definitely or probably would not get vaccinated at this time. The Pew research noted intent to get a COVID-19 vaccine has fallen from 72% in May (a 21 percentage point decline).
In the EMS1 survey, paramedic chiefs were most likely to get a COVID-19 vaccine, at a rate of 51%, versus 32-35% in EMTs and supervisors, and 22-23% in paramedics, AEMTs and medical first responders.
The discrepancy between those who plan to get their flu vaccine (59%) versus those who plan to get a COVID-19 vaccine (28%) may point to a lack of confidence in a COVID-19 vaccine that has been pushed through a speedy clinical trial process, as well as the timing (during an election season).
Just 14% of respondents noted they don't have any concerns about a potential COVID-19 vaccine.
Respondents ranked among their concerns primarily potential side effects, followed by speed of the approval process, efficacy and availability. A very small number of respondents (1%) highlighted cost as a concern, while 11% noted additional concerns not listed in the survey.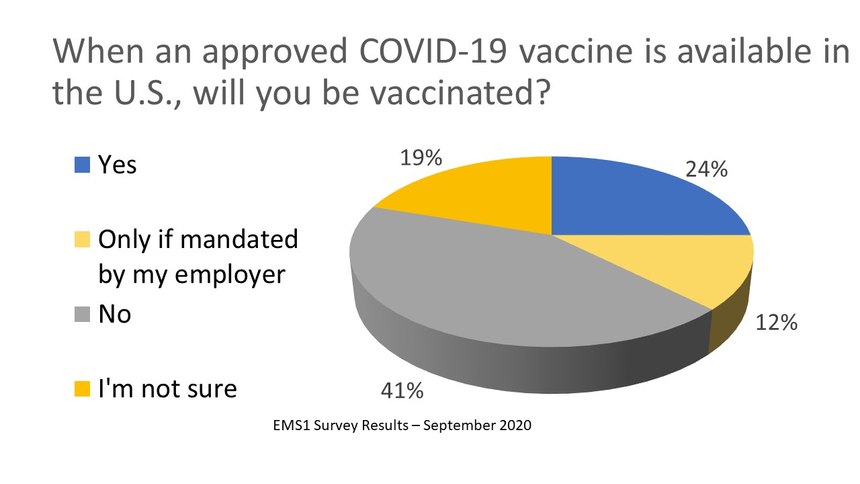 Those EMS providers who do envision a COVID-19 vaccine in their future indicated in the survey they would prefer to be vaccinated at work (34%) or at their physician's office (29%) over at a pharmacy (4%), clinic (5%) or drive-through location (2%). The majority of respondents (68%), believe their employer should provide COVID-19 vaccines to frontline providers.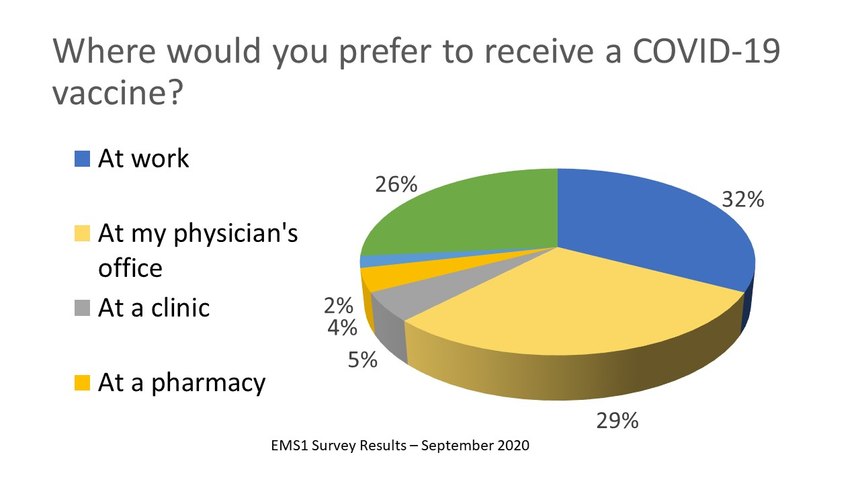 Vaccination as a condition of employment for frontline EMS
As for workplace mandates, 54% believe influenza vaccination should not be a condition of employment for frontline providers (with 36% feeling strongly). Just 32% believe influenza vaccination should be a condition of employment (with 20% feeling strongly).
An even greater 61% of respondents do not believe COVID-19 vaccination should be a condition of employment (with 46% of those feeling strongly). Just 23% believe COVID-19 vaccination should be a condition of employment for frontline EMS providers (with 15% feeling strongly).

AEMT respondents believed COVID-19 vaccination should not be a condition of employment at the highest rate (71%), compared to paramedics (67%), supervisors (59%), EMTs (56%), medical first responders (47%) and chiefs (39%).
Ethical responsibility to be vaccinated
When it comes to ethics, amongst survey respondents, EMS chiefs were most likely to agree that frontline providers have an ethical obligation to get a COVID-19 vaccine (49% agree vs. 37% disagree), while paramedics and AEMTs were less likely to support an ethical obligation (20% agree, 63% disagree; and 26% agree, 69% disagree respectively). Thirty percent of EMS supervisors and EMTs both agree frontline providers have an ethical obligation to get vaccinated against COVID-19.
Overall, 27% believe frontline EMS providers have an ethical obligation to get a COVID-19 vaccination (17% strongly agree), while 58% do not feel they have an ethical obligation to get a COVID-19 vaccine (40% strongly disagree there is an ethical obligation).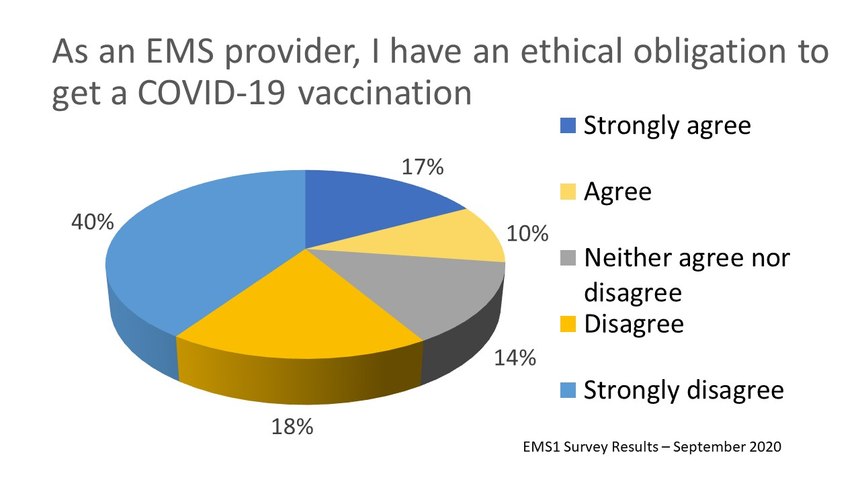 Though an almost even number of respondents are unsure of their ethical obligation to get vaccinated for COVID-19 versus influenza (13% for influenza and 14% for COVID-19), a slightly higher percentage or respondents believe there is an ethical responsibility to get vaccinated for influenza (35% agree; 20% strongly) over COVID-19.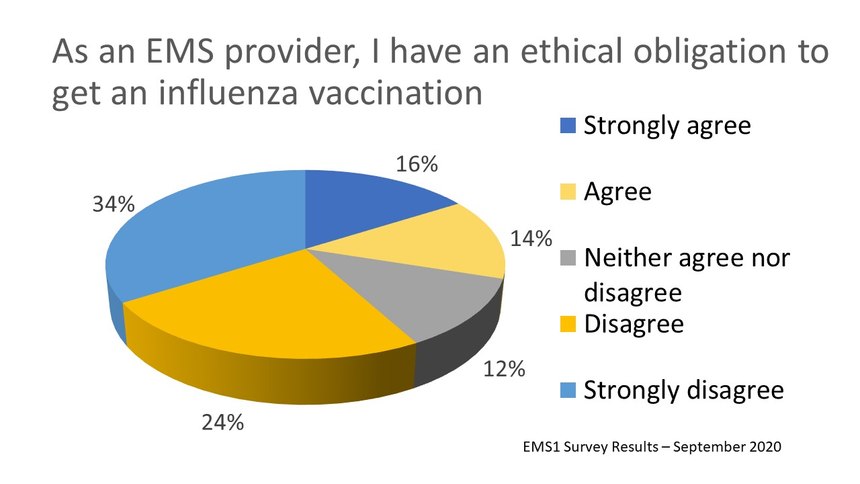 Where do you stand? Do you feel ethically obligated to get a COVID-19 vaccine when one becomes available? Will you be vaccinated? Tell us why or why not by filling out this short form. We may use your responses in a future article or follow-up with you to ask additional questions.
Read next: Face masks: Here's what cops, firefighters, medics and COs have to say about use, policy and effectiveness