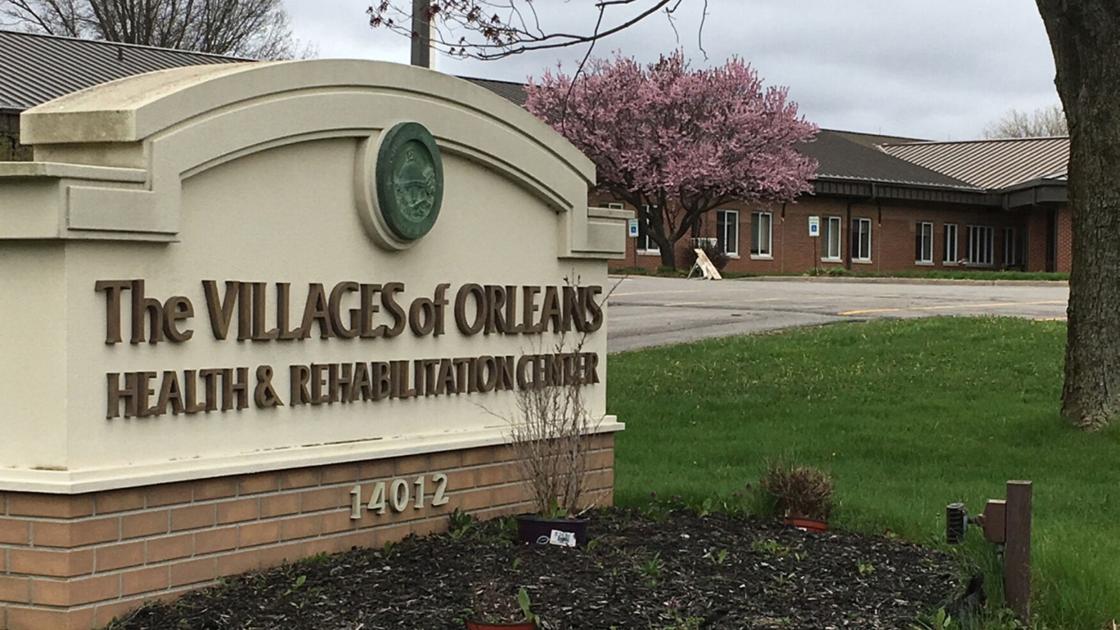 ALBION — The Villages of Orleans Health and Rehabilitation Center is facing a $20,000 fine from the state Department of Health for how nursing facility handled the COVID-19 pandemic.
Inspectors from the state Department of Health cited The Villages for failing to provide proper infection prevention and control measures, which resulted in a declaration of "immediate jeopardy to resident health or safety," according to the inspection report from the state Department of Health.
The 120-bed facility was also cited for not immediately informing the resident's representative when there was a significant change in the resident's status, including when residents were tested for or developed symptoms of COVID-19. The severity of the violation was deemed to have "potential to cause more than minimal harm."
The violations stem from an inspection conducted May 9 that included detailed observations, interviews with staff, administrators and family members, and a review of facility policies, according to the inspection report.
The violations were deemed to have been corrected by a subsequent inspection on June 15.
The Villages have had 89 confirmed cases of COVID-19 and 30 deaths attributed to the virus, according to data from the Genesee and Orleans Counties Departments of Health.
There have been no new cases or new deaths reported at the facility since June 8, according to health department data.
To read the full inspection, go to https://tinyurl.com/y48cczwz.
State inspectors said The Villages "did not establish and maintain an Infection Control Program to ensure the health and safety of residents to help prevent the transmission of COVID-19."
Inspectors observed some certified nurse assistants and licensed practical nurses failing to take proper precautions in serving food and in other circumstances.
"Facility staff … entered and exited the room of a resident diagnosed with [redacted]. The same staff then entered the rooms of residents without COVID-19, passed breakfast trays, assisted with the residents' meal and provided hands on care without wearing PPE and completing proper hand hygiene. Staff on COVID-19 Units, COVID-19 rooms, and COVID-19 presumed rooms were not wearing proper PPE."
The inspection report detailed a certified nursing assistant on a COVID-designated unit "not wearing a face shield or goggles while going in and out of resident's rooms diagnosed with "[redacted]" and an LPN "delivering a breakfast tray to an actively coughing resident diagnosed with [redacted]." The LPN was not wearing gloves and did not complete hand hygiene, and "then entered a non COVID-19 room while wearing the same uniform and face mask to provide hands on assistance to the resident."
In subsequent interviews, the LPN acknowledged the need for changing PPE and completing proper hygiene. The LPN also said "if we have the PPE, then I wear it but most of the time there is no PPE available on the unit."
"I checked the precaution bins on all three units and the bins are empty," the LPN told inspectors. "We can't do our jobs the right way if we don't have the supplies."
When a different CNA and LPN were asked why they were not wearing gowns on the COVID-19 unit, the LPN stated "often there weren't any."
The inspectors said PPE, or personal protective equipment, was not readily accessible to staff.
At the time of the inspectors' observations, no PPE was available in the precaution bins at three units. A subsequent interview revealed that the PPE was stored in a room that only the director of nursing and assistant director of nursing have keys to, the report said.
During the same observation, about two hours after interviews with the LPNs, the PPE storage room was shown to have 1,000 surgical masks, 88,500 gloves, 600 powder free gloves, 480 N95 face masks, 1,950 gowns, 308 face shields, 19 pairs of goggles, 1,900 surgical masks and 100 pairs of booties, the report said.
The report also noted additional supplies such as containers of bleach wipes, sanitizing whites, and gallons of hand sanitizer.
"Additionally," the inspectors said in their report, "residents under investigation for COVID-19 were not placed on droplet precautions per the facility process" nor was there signage posted at doors alerting staff for any resident on precautions for COVID-19.
The Villages agreed to a nearly 36-item plan of correction that included the cleaning of all resident units with an EPA-approved environmental cleaning chemical fogger, review resident room assignments and make appropriate changes to cohort COVID-19 positive residents and those who are symptomatic to designated locations within the facility, and provide staff with appropriate PPE and educate staff on the proper use and required hand hygiene prior to entering or exiting a resident's room or having resident contact, stock unit PPE bins and storage areas with PPE including gowns, masks, gloves and goggles or face shields and also give all supervisors access to the supplies.
The plan of correction also outlines system changes to assure continuing compliance with regulations, review of facility policies, regular and random audits to ensure compliance, and training for staff.
A second plan of correction tightened reviews of medical records to ensure that residents representatives are notified if there are COVID-19 tests or onset of symptoms and re-educating of the director of nursing, LPNs and RNs on such tasks as notifying the resident's representatives and the responsibility to obtain a physician's order for COVID-19 testing.
The plans were approved by the state health department on May 29.
The state Department of Health said it has conducted 1,867 onsite Focus Infection Control Surveys since March 1 – the month confirmed infections from the virus were reported in New York. Those surveys include 1,134 at nursing homes, with a least one visit to every nursing home and adult care facility in the state. Those visits have results in 95 citations to 77 nursing homes and fines totaling $328,000 to 23 facilities. Fines ranged from $2,000 at Cuba Memorial Hospital Skilled Nursing Facility and Massapequa Center for Rehabilitation and Nursing to $50,000 to Humboldt House Rehabilitation and Nursing Center in Buffalo.
Additional fines could be levied against nursing homes and adult care facilities, the state health department said.