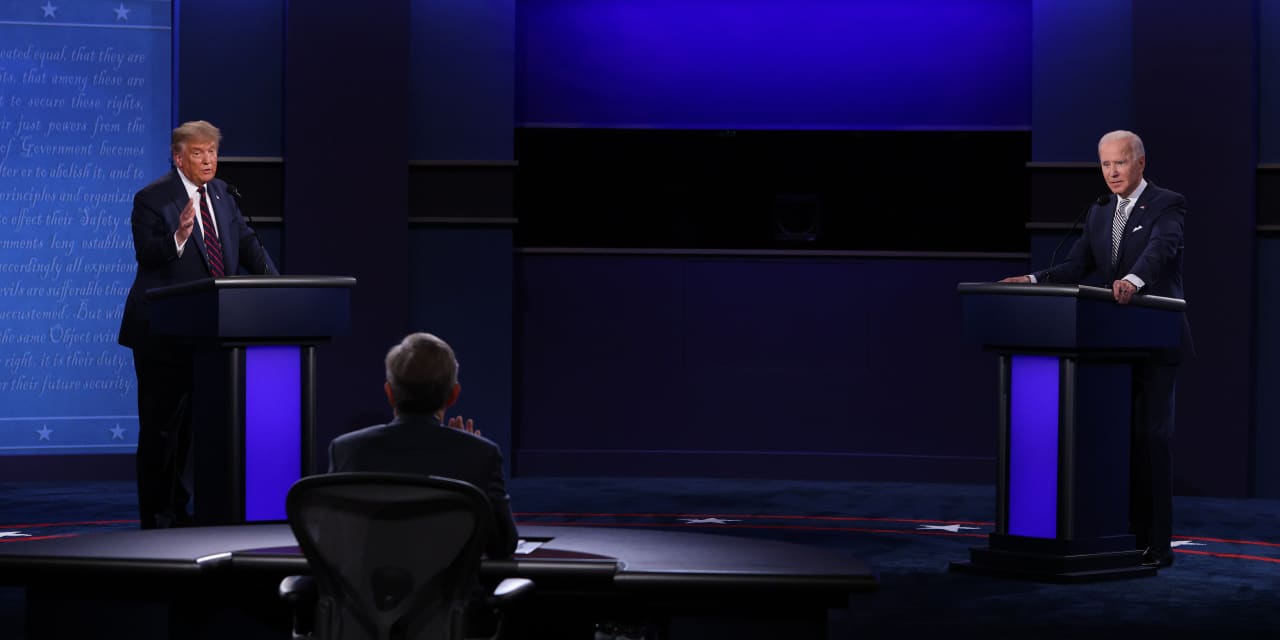 U.S. stock indexes marched higher Wednesday at midday as investors focused on brighter economic data, promising signs from companies working on COVID-19 treatments, and renewed hope for another fiscal stimulus package from Congress.
But market participants were also wary of a potentially contested November election following Tuesday's rancorous first presidential debate.
How are stock benchmarks performing?
The Dow Jones Industrial Average DJIA, +1.86% YMZ20, +1.48% jumped about 451 points, or 1.7%, at 27,905 while the S&P 500 index SPX, +1.44% gained 44 points, 1.13, to trade near 3,380. The Nasdaq Composite COMP, +1.33% was up 1.5%, 168 points, trading near 11,253.
On Tuesday, all three of the equity indexes snapped a three-session string of wins. The Dow fell 131.40 points, or 0.5%, to end at 27,452.66; while the S&P 500 index closed 16.13 points, or 0.5%, lower at 3,335.47, and Nasdaq Composite Index slipped 32.28 points, or 0.3%, finishing at 11,085.25. All three major equity indexes snapped three sessions of gains.
What's driving the market?
Brighter U.S. economic data took center stage Wednesday, even as Wall Street braced for a potentially protracted period of uncertainty before November's election and its aftermath.
In U.S. economic data, Automatic Data Processing on Wednesday said 749,000 private-sector jobs had been created in September, ahead of estimates for a gain of 650,000, and the strongest reading in three months. Last month, the ADP data showed that 480,000 jobs were created in August.
The ADP report comes ahead of the more closely followed nonfarm-payrolls report set to be released on Friday, with 800,000 jobs estimated for September and the unemployment rate slipping to 8.2% from 8.4%.
A reading of Chicago-area business activity in September was also stronger than expected, with a reading of 62.4. And GDP losses for the second quarter were revised down to -31.4%, from -31.7%.
And home-contract signings were at a record high in August, the National Association of Realtors said.
"This data indicates residential real estate is moving well beyond a 'V-shaped' recovery and into boom territory," wrote Steven Ricchiuto, U.S. chief economist at Mizuho, following the housing data, adding that a robust housing market should help offset other potential headwinds.
Diane Jaffee, senior portfolio manager at TCW, also sees incremental progress in both the economy, particularly in hiring, and in the market, with some broadening of sector gains.
"I think Chairman Powell said it best: there are multiple phases for this, and we're in phase two, a recovery from the horrific lows, but the broad damage done to the leisure industry and restaurants and small businesses is going to take a long, long time," Jaffee told MarketWatch. "That's why the Fed is going to be patient."
But Jaffee also thinks another round of fiscal support from Washington is critical. "While some states have stepped into the void, there are still a lot of hurting people out of there and that should be done at a national level," she said.
In Washington D.C., Wednesday looks like high noon for efforts to pass a coronavirus fiscal stimulus package before the Nov. 3 presidential election.
A top House Democrat said late Tuesday that Democrats would be waiting until noon to hear back from the White House with a counteroffer to the new $2.2 trillion aid bill they unveiled Monday. If they vote on the bill, it could very well mean hopes for a package are dead until the post-election lame-duck session.
More positive data on potential coronavirus treatments also helped investors sentiment with an experimental COVID-19 drug from Regeneron Pharmaceuticals REGN helping reduce virus levels and improve symptoms in sick patients who weren't hospitalized .
See: Presidential debate antics leave many viewers disgusted
Early in the session, the first presidential debate late Tuesday night, one of a three-part series, between President Donald Trump and Democratic challenger former Vice President Joe Biden did little to alter the trajectory of the race for the White House or to offer clear guidance for market participants on policy.
" It was an acrimonious, chaotic and insulting debate," wrote Naeem Aslam, analyst at AvaTrade in a note.
Aslam said that the rancor and testiness displayed during the heated 90-minute clash at Case Western University in Cleveland may signify the growing possibility of an uncertain outcome in the Nov. 3 contest, which could roil markets in the short term.
"The presidential debate reinforced the market concerns that Trump isn't going to accept his defeat that easily," the AvaTrade analysts wrote.
Both candidates suggested that the presidency may not be decided on Election Day.
Which stocks are in focus?
How are other markets performing?
The 10-year Treasury note yield TMUBMUSD10Y, 0.689% rose 4 basis points to 0.68%. Bond prices move inversely to yields.
U.S. benchmark crude futures for November delivery CL.1, +1.47% traded 32 cents higher, at $39.61 a barrel on the New York Mercantile Exchange, despite concerns about rising case counts. Gold futures GCZ20, -0.27% dipped 0.4%, to $1,902.50 an ounce, as the dollar rose.
In global equities, the Stoxx Europe 600 index SXXP, -0.11% traded 0.1% lower, while the U.K.'s FTSE 100 UKX, -0.53% fell 0.5%. In Asia overnight, Japan's Nikkei NIK, -1.50% lost 1.9% and Hong Kong's Hang Seng HSI, +0.78% Index closed 0.8% higher.
The ICE U.S. Dollar index DXY, +0.03%, a gauge of the greenback's strength against a basket of currency trading partners, was up 0.1%.
Read next: Market swings are a sign 'something is lurking,' says strategist who called '08 crisis
Mark DeCambre contributed reporting